Buy Now Pay Later (BNPL) has gained popularity as a more convenient payment method in recent years. It essentially reduces borrowers' financial burden by providing no-cost EMIs.
According to Goldman Sachs, the Indian e-commerce business would grow to $99 billion by 2024 because of consumer demand. According to experts, BNPL will rise from 3% in 2020 to 9% in 2024, making it the fastest-growing online payment mechanism in India.
What is Buy Now Pay Later?
As its name suggests, BNPL allows its customers to make purchases now and pay for them at a later point in time. The repayment can be made through EMI (equated monthly instalment) or in lump sum, with little or no interest charges.
The BNPL service provider pays the merchant directly on behalf of the customer. Many millennials don't have credit cards yet, so this is a good option for them. As a result, BNPL is a more accessible, transparent and convenient alternative to credit cards. 
On the provider's platform, a first-time buyer must complete KYC formalities. 
Financing through BNPL is typically low-cost or free, with a wide range of repayment options.
How does BNPL work?
There are a variety of BNPL options, and they're not all the same. The only thing that separates BNPL service providers is the terms and conditions they offer.
Generally, it follows this process:
At a retailer, you buy something.

At the checkout, choose the 'BNPL' option. It will ask for your name, date of birth, address and phone number.

Make a small down payment on your purchase if you're approved (you'll find out in seconds).

You can choose to pay off the balance either as a lump sum or convert it into interest free EMIs
Note : You can pay through cheques, credit card, bank transfer, debit card, or a UPI transaction.
Depending on the size of the transaction, the credit period can range from 30 days to 36 months. You won't be charged any interest if you pay off your balance in full before the period expires. Flipkart's BNPL services allow customers to make purchases of up to Rs 10,000. ZestMoney, another BNPL lender, allows customers to make purchases of up to Rs 60,000 under their personalised limit.
In India, there are only 30 million cardholders. BNPL is geared toward a much broader demographic.
BNPL vs Credit Cards
Credit cards and BNPLs are similar in that both provide the option of deferring payments to the borrower. However, these two credit products have some significant distinctions.
BNPL will rarely improve your credit, but it can hurt it.
Does Buy Now Pay Later affect my credit score?
Most BNPL applications do not perform a hard pull on the borrower's credit report, and many do not report on-time payments to credit bureaus. As a result, depending on the app, as long as all payments are made timely, it will have no effect on the borrower's credit score or even appear on their credit report. 
However, some BNPL apps do report when people don't pay back on time. Furthermore, if the borrower falls behind on their payments, most BNPL apps have the ability to terminate their account and demand that the remaining balance be paid in full immediately. If he or she does not pay, their debt may be sent to collections, which can severely harm their credit score.
How does BNPL earn money?
BNPL profits from both sellers and customers. Sellers have to pay BNPL a fee ranging between 2-8% of the purchase price if any customer purchases their product using the BNPL facility. BNPL players can also profit by consolidating their positions through various marketing or promotional expenditures if the seller can increase conversion or traffic. 
BNPL providers charge interest ranging from 10% to 30%. It is based on the customer's credit rating and their repayment period among other variables. As long as any customer repays the loan timely, no interest is charged on them. 
While it's rare, late fees may be charged to customers who can't pay back their loan by the due date. The BNPL company generates revenue when users pay late fees.
Which companies offer Buy Now Pay Later? 
A few BNPL companies operating in India are : 
ZestMoney

LazyPay

Simpl

Amazon Pay Later

Ola Money Postpaid

Paytm Postpaid
In addition, banks like Axis Bank, Kotak Mahindra, ICICI Bank, etc. are also providing  the BNPL facility to their customers.
A new BNPL company emerges every day with an app that simplifies and streamlines the purchase process. Some retailers offer BNPL payment options at the point of sale. You should always go with the interest-free plan if you have a choice between two or more options. And make sure to clear your dues timely. 
Advantages and disadvantages of BNPL 
Consumers may find it convenient to use BNPL financing, but there are some drawbacks to take into account. Few advantages and disadvantages of BNPL are: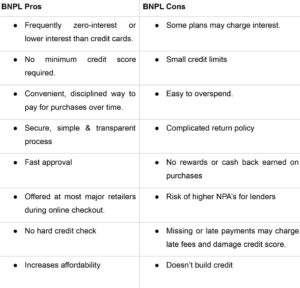 Conclusion 
The idea behind BNPL is that consumers can get everything they need right away while also having some additional time to pay for it. The BNPL concept will encourage more customers to buy an item of their choice instantly.
Consumers may find it convenient to use BNPL financing, but there are some potential drawbacks to consider.
Lenders offering this service should exercise caution because not everyone will be able to pay back the amount within the time frame specified. Customers must understand the ramifications of failing to repay the amount timely. Such as interest charges and a drop in credit score. BNPL's future appears bright as long as consumers use the facility accurately and pay their bills on time.