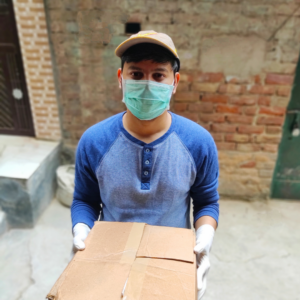 The year 2020 has not been kind. Especially to the weaker economic sections of our society.
Uman Sayyed, a 19-year-old from Mumbai, was awaiting his exam results when his brother, the sole earning member of the family, went jobless. With an immediate need to support his livelihood, he started looking for work in April – the peak of the nationwide lockdown. The odds, to say the least, were stacked against Uman.
The job hunt ended in July 2020 when he signed up as a delivery executive for an eCommerce major.
"I feel relieved that I will finally be able to support my family. This is a tough time for all of us", said Uman.
Rajesh Kumar, a street food vendor, and father of two children, also had a similar journey. His savings were almost exhausted when he finally got the job of delivering packages for a few hours every day. He says that with this money he will be able to keep his family afloat for a few months before finding a more permanent solution.
Soon after the country went into lockdown, the industry realized that the winds of change would make people more reliant on e-commerce and home delivery than before. Our client, the biggest e-commerce company in the world, also started making plans to ramp up its delivery partner network. There was, however, one important hurdle to overcome.
The lockdown and social distancing requirements had made the conventional 'Onboarding Centre Model' obsolete. No longer could companies crowd their onboarding centers with job aspirants. They also had to ensure that the process was still efficient as prospective delivery partners often want to get on board and start earning immediately. A quick turnaround time (TAT) was essential to keep drop-offs in check.
The situation was ripe for a technology-led disruption by the technology used in e-commerce.
Zero Touch Onboarding
The e-commerce major used our remote onboarding method – Zero Touch Onboarding – that takes the onboarding process onto a live video call.
Aspiring Delivery Partners (DPs) connect to a live video call with our agents. On the call, the agent confirms their identity (documents and FaceMatch) and current location (digital location capture). The application is then passed to the Background Checks team that does a criminal record check and a field address verification.
In parallel, the aspirant is put through a training module for onboarding. Online training allowed the DPs to choose a convenient slot and complete it from home.
When all checks are completed successfully, the aspirant is onboarded without ever visiting an onboarding facility or center. The next day he is ready to deliver his first package.
The impact
We helped our client onboard 100,000 delivery partners in the 2 months leading up to Diwali.
It was at such a scale and speed that Amazon closed all onboardings 3 weeks before Diwali having met all their targets.
Most of all, though, 100,000 families desperate for income found jobs during a once-in-a-century pandemic. Thousands like Uman and Rajesh found hope amidst an economic crisis. All it needed was a vision combined with the technology to achieve that vision.
---
IDfy provides Zero Touch Onboarding technology used in e-commerce.
If you need to onboard people remotely at scale and in realtime, please write to shivani@idfy.com
More information on www.idfy.com