We ran Video KYC operations on our Video KYC platform. In one month, we saw a 3x rise in agent call completions. Here's how we did it.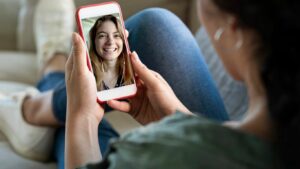 With demand for home delivery surging during lockdown, our client – an e-commerce major – tasked us with onboarding thousands of delivery executives for them in a matter of weeks. Given the circumstances, the whole process had to be remote and contactless.We deployed our Video KYC platform to run our remote onboarding operation. Our agents, already trained in background verification processes, manned the video call centre.In a matter of a month, we onboarded 10,000 delivery executives. During this time, we tripled agent efficiency and reduced cost per onboarding by 50%.

In the process of running these operations, we have discovered what it takes to run an efficient Video KYC operation. One that converts more customers and reduces the cost of acquisition significantly.
Insights-driven decisions
It's imperative to track live data, draw insights, and use them to dynamically manage different elements of the workflow.
Our Project Management Office (PMO) tracks live stats on the Data Studio dashboard.
This live data helps us keep queue lengths shorter than 2 minutes and video call times lesser than 3 minutes.
The PMO uses insights to dynamically manage queues and the funnel, fill off-peak hours through outbound calling, and juggle agents between inbound and outbound depending on traffic.
Effective management of all elements
1. Call Management
Keep call duration shorter than 3 minutes.
The shorter the call the lesser chances of it dropping. Shorter calls also mean shorter queue length, which means customers have to spend lesser time waiting to be connected. It leads to handling more customers and higher conversions.
To keep call lengths short, review your customer journey. Optimize it to keep the video call lengths as short as possible.
2. Queue Management
Manage your queue dynamically by monitoring live data.
It's important to keep a track of live queue stats as well as understand trends that you can plan for.
Live queue data can alert you to agent underutilisation and customer drop-off possibilities.
This is where having an inbound-onbound combination can be put to great use. If the queue is drying off, you can switch agents to outbound – call customers and drive video sessions. You can also use SMSes and WhatsApp, sharing the link for the Video call.
Use data to schedule calls with customers during off-peak hours.
3. Funnel Management
Use data to find out which stage(s) are customers dropping off at. Identify the problems and fix them rapidly.
Funnel conversion may also fail due to problems in integration or the configuration. Be sure to look into those aspects too.
4. Agent Management
Track agent stats carefully. Spot agents with lower performance, identify the problem and rapidly solve it. It will have a ripple effect across the operations and improve overall efficiency.
Keeping a close eye on all elements, using insights to dynamically drive processes, and continuously watching and improving metrics are the keys to running a successful Video KYC platform.
---
Running our own platform for non-Banking customers is helping us build in all these factors into our product. The improved customer and agent journeys are helping our clients increase conversions and reduce customer drop-offs.
A data-driven approach to manage all elements of Video KYC  is the cornerstone around which agent operations should be designed.
---
IDfy's Video KYC Solution is used by leading Banks and Financial Institutions to onboard customers remotely.
For a demo, please write to shivani@idfy.com