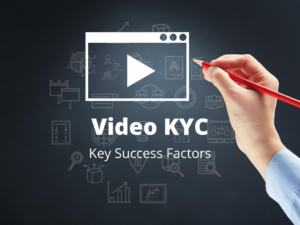 Since the world went into this pandemic-induced lockdown, Banks and Financial Institutions have accelerated their adoption of Video KYC. With good reasons too. Success Factors like security and scalability of Video KYC solutions have, obviously, been most discussed and debated.  However, these are not the only factors that decide the success of your Video KYC rollout.
Related read: Visa selects IDfy for Video KYC
With 7 Video KYC rollouts under our belt and having onboarded 24000 people in a month using our Video KYC platform for an e-commerce major, we have uncovered important factors that are often overlooked in the rush to take this solution to market.
In this 2-min video, Ashish Sahni, CTO at IDfy, gives a rundown of how you can can maximize the impact of your Video KYC rollout.
---
IDfy's Video KYC Solution is making remote onboarding possible for banks, financial institutions, telcos, e-commerce, and shared economy companies.
Our enterprise-grade Video KYC solution helps you, onboard customers, remotely and instantly while staying safe from fraud and regulatory non-compliance.
Our solution is built for scale, comes with the highest-grade security features, and has in-built ID checks, face solutions, and location capture features.
To know more, please write to shivani@idfy.com