If you want to know how surprisingly easy it is for someone to forge your PAN Card and assume your identity, read along.
Here's an interesting eye test. One of them is a fake PAN Card. Can you tell which one?
Do you know how easy it is for me to steal your identity?
To become 'you', all I need is your PAN number and a little knowledge of photo editing. If you think about the number of places you have submitted a copy of your PAN Card as required by regulations, you'd soon realize that you might have a million open fronts vulnerable to impersonation fraud.
You'd probably think that the issuers of the PAN Card and those who've allowed it to be used as identity proof – the Government of India – would do their best to make sure your identity remains safe. Let's find out if you thought right.
Below are the National Securities Depository Limited (NSDL) results of the PAN number from the card(s) you saw above. Does it help you identify the fake PAN card number now?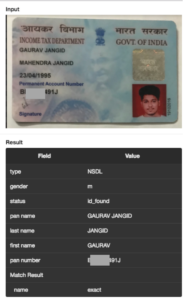 As you may have noticed, the NSDL does not return the picture of the original PAN cardholder, so the entity trying to verify the identity cannot be sure if the picture on the PAN card has been forged or not. Nor does it confirm the date of birth.
So, all I need to do is, put my picture on yours, photoshop the date of birth, and use a copy of the forged card to take a loan in your name. Simple!
So how can businesses protect themselves from PAN forgery?
This is where machine learning comes in!
Even though the naked eye may not be able to see it, every instance of image forgery leaves behind some clues. In fact, unknown to the fraudster, the fake document contains so many clues that it can be used by law enforcement to establish proof of the crime.
To know more about how to detect tampered and forged images, learn about our API tools here. 
Machine learning algorithms power AI tools that are able to process a large number of real and fake documents and then learn how to spot fakes as soon as they encounter one. These algorithms are designed to look for specific types of trails that a tampered image creates and with training become very good at not just identifying the fakes, but also pinpointing the exact parts of the document or image that have been modified.
An example is our proprietary PAN Forgery Detection product. We analyze each image using text heuristics, pixel-level recognition, lighting variations, image characteristics, and more.
While NSDL may not be the ideal platform to ensure the prevention of fake PAN card identity theft, businesses need to incorporate forgery detection tools quickly before the scale of losses becomes too significant to ignore.
To schedule a demo with IDfy, please email shivani@idfy.com or fill out the form here.