IDfy is powering the digital customer journey at one of India's top PSU banks. This is allowing it to disburse Shishu mudra loans in less than 30 minutes.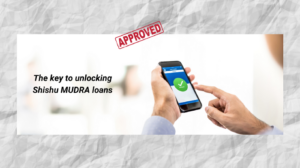 Since the last five years, crores of loans have been disbursed by banks and financial institutions across India under the Pradhan Mantri Mudra Yojana (PMMY) scheme. Most of these loans are Shishu loans, with ticket sizes typically ranging from Rs. 20,000 to Rs. 30,000. Going by the reports available on its official website, a bulk of these loans have been flowing through public and regional rural banks. Up until now, most of them had been using a traditional loan application journey which involved high physical intervention both from the customers and banks.
Considering that the volume of MUDRA loans has been increasing steadily over the past, capacities of banks were likely to get stretched. And with safety & travel restrictions due to COVID-19, banks have been increasingly looking towards adopting a digital first journey for disbursing MUDRA loans.
IDfy recently started powering a digital journey at one of India's top 3 PSU banks that is ultimately allowing it to disburse Shishu mudra loans in less than 30 minutes. Before we understand their implementation, let us take a brief look at the background of MUDRA loans.
What are MUDRA loans?
On the 8th of April 2015, the Government of India launched the Micro Units Development and Refinance Agency Ltd. (MUDRA). It aims to extend financial assistance to banks, NBFCs, MFIs and other last mile financial institutions which lend to micro enterprises engaged in manufacturing, trading, services and other income generating activities. MUDRA provides credit guarantee, refinance and other developmental support to these lending institutions to expand their outreach and provide support for funding the unfunded.
Along with the launch of MUDRA, the Government of India also announced the launch of Pradhan Mantri Mudra Yojana (PMMY). The scheme provides loans upto Rs. 10 lakhs to non-farm, non-corporate and micro enterprises. All public sector banks, private banks, regional rural banks, SFBs, NBFCs and MFIs can be approached by borrowers to apply for MUDRA loans under PMMY.
The loans are categorised into three buckets, signifying the stage of growth the business is in:
Shishu (upto Rs. 50,000) — for start-ups and new businesses
Kishore (from Rs. 50,000 to Rs. 5,00,000) — for expanding existing businesses
Tarun (from Rs. 5,00,00 to Rs. 10,00,000) — for established enterprises
Since its inception in 2015, a staggering Rs. 12.95 lakh crores has been disbursed under the aegis of PMMY as per the data available on its website. Its performance has grown steadily over the last 5 years, with as much as Rs. 3.3 lakh crores being disbursed in FY 19–20 alone.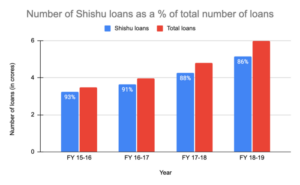 Churning out crores of loans every year is no mean feat and kudos to all the banks and financial institutions for a successful implementation of the scheme.
However, owing to the sheer volume of Shishu loans, it does become cumbersome for lending institutions to have every one of their customers physically visit the branch and submit their applications in person, especially if one considers the low ticket size of these loans.
Not only does this require a physically intensive workflow, it also results in higher TAT for loans that could potentially be disbursed within minutes.
The digital onboarding journey at the PSU bank
Customers of the bank can simply open the bank's app or website and apply for a Shishu mudra loan online. After filling out the preliminary details in the application form, the customers then go through an instant self Video-KYC journey powered by IDfy that accomplishes their KYC without having to visit the branch.
As a part of the KYC process, IDfy captures the PAN & Aadhar details of the customer along with their live location and a selfie. A FaceMatch score between Aadhar/ PAN and the selfie is provided to establish the authenticity of the customer. An instant validation of PAN and Aadhar details ensures that their KYC is completed within seconds.
This is ultimately enabling the bank to disburse Shishu loans within a span of 30 minutes.
IDfy also offers the capability to capture additional documents such as Income Proof, Proof of Belonging to Special Category, Business Registration Certificates, etc. depending on the checks required by banks.
IDfy offers two types of self Video-KYC journeys that can be implemented either as a standalone journey or by integrating it with your LOS/ LMS.

To know more about how we can help you implement a similar journey for your bank, get in touch with us at shivani@idfy.com.