When India went into lockdown in March 2020, Ali was suddenly left with the prospect of trying to survive in Mumbai without any income. He couldn't afford it. He innovated his business model to survive those tough months. Now, it is earning him more money than he did before as a Swiggy seller.
Ali runs a little outlet on the main arterial road in Mumbai. He pays rent for it to a friend who (may be) is the rightful tenant of this pop-up. He's been selling coconuts in Mumbai since he first arrived here 8 years ago.
Following the upward mobility paths of many in Mumbai, he started on Mira Road. Moved southward to Andheri. Today he sits further south in the suburb of Santa Cruz.
When lockdown happened, Ali was resourceful enough to keep some of his coconut supplies coming in to him off-and-on. However, he was unable to operate his shop as it stands in plain sight on the main road.
Desperate times. Desperate measures. Need for innovation.
Ali is friends with the owner of a nearby grocery store. He got him to list his coconuts on their menu on Swiggy on a revenue share basis. He started servicing home delivery orders through the store. This helped him survive the tough lockdown months.
Now that the lockdown is partially lifted, Ali is back on his spot on the street. His Swiggy arrangement still continues. He says he's earning twice as much as he did before the lockdown thanks to this new distribution channel.
He's not planning to register as a Swiggy seller himself. He doesn't have papers for the store nor does he have digital payments activated. He says he needs to visit his bank in his village to get some code to activate Google Pay.
He doesn't fear that his friend will start stocking up coconuts directly from suppliers and cut him out. Chopping the coconuts and preparing them for delivery is a specialized activity. He's confident that's enough of an entry barrier for department stores to do it themselves.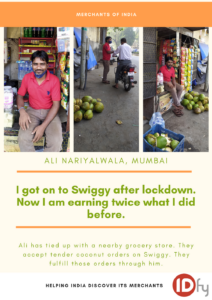 Merchants of India is an Insights Series from IDfy to help India discover its merchants.
IDfy helps e-commerce, payments, wallets, and consumer goods companies onboard merchants from anywhere, anytime, with any document.
For more information, please write to shivani@idfy.com